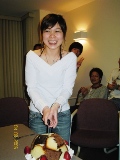 Today was Audrey's Bday and we had a party for her.
Actually she wasnt in Rits until 12 and we had a dinner without her. She was out to eat dinner with her friends so we left some for her and made cake for her.
Today, as Audrey's requested, I was a cook, and I made almost everything. I made Nikujaga, I made Miso-nikomi (Miso soup was made by Yoko) and I made ice-cake.
We had so many ppl today, kei, yuri, tomohito, sakiko, goh, kazuhisa, soshiro, yuichi, hide, yudai, yugo, kaye, me, and yoko... thanks all who came to eat our dinner and came to celebrate her Bday with us★
When Audrey came back to home, she had thee friends with her, one girl and two boys, and they also brought cakes. Since mine was icecream-insided, and we had to eat it first, so I asked her to eat first and we had it first. Then we had a cake from true confection, which is really famous cake shop in vancouver around UBC. That chocolate cake was so yummy, but because it had almost two times bigger amount than usual, we could not finish it. We had a drinking game and loser had to bite that cake.
We still have a mango cake and tmr we are most likely to eat it. I could not make Kinpira-gobo today so I will make it tomorrow.
This Bday party had another meaning actually, but I hoped that it was also going well. Good luck, it just started.
We had so much fun tonight, esp with Yuichi and kazu's experiment of "one thing".
Long talk with Audrey and kaye made me speak English a lot, and I think that was really good time for me sharing time with them, in terms not only of English but also of sharing few times in Canada with.